Owning a Medical Franchise has its Perks
When looking to open a business, entrepreneurs must conduct extensive research to find out what industries are smart financial choices, in good times and bad. With health care an essential service, no matter the economy, medical franchising is quickly emerging as a best bet opportunity that can open up great career opportunities while providing a meaningful service to your community. And, truth be told, there are a ton of perks in owning a medical franchise these days.
For starters, investing in a medical franchise system lowers your risk compared to independent clinics. Your health care franchise acts as a sort of safety net, providing you a proven business model, established brand recognition, and backing support in the operation and growth of your clinic. Buying into the franchise system also means you have the blueprint for growth and quicker start-up times. Plus, franchisors provide invaluable support on marketing, training and business guidance.
Last but certainly not least, running your own medical franchise gives you the freedom to be your own boss, with all the advantages of the franchise system and the support it brings. For so many entrepreneurs, medical franchising is the sweet spot between independent clinics and all the risks they hold, and the desire to pave your own career path. For entrepreneurs who want more out of their work, a medical franchise is a perfect opportunity to give something back to their community.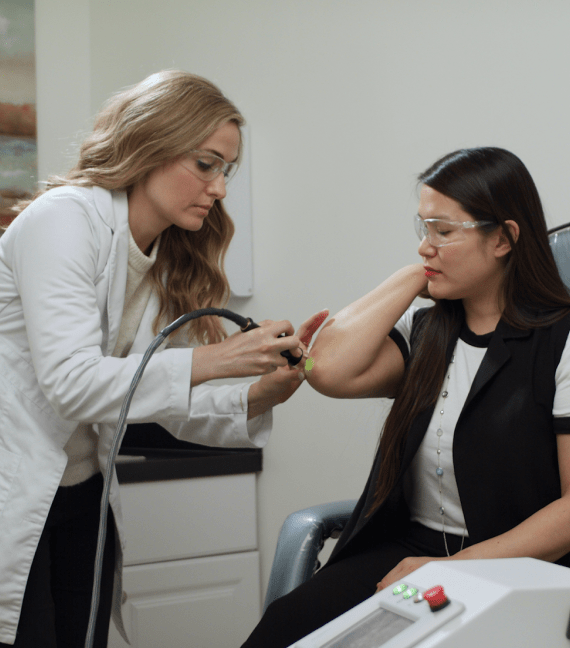 An Affordable Medical Franchise Opportunity
Array Skin Therapy was founded to bring more affordable, convenient and accessible light therapy clinics across the country to help the millions of Americans suffering from skin conditions. Array Skin Therapy uses FDA-approved skin therapy treatments to treat a range of skin conditions, including eczema, psoriasis, and vitiligo. And, with few medical providers offering light therapy, Array Skin Therapy has carved out a niche market in the booming healthcare industry.
To open an Array Skin Therapy clinic, initial investment costs run as low as $139,030 to $195,030, which includes a $55,000 initial franchise fee. As part of your investment, franchise owners undergo an extensive and robust training program, and receive ongoing support for the life of the franchise. Once up and running, the Array Skin Therapy team is still with you every step of the way, because when your clinic thrives, so does the franchise as a whole. And with skin conditions affecting more and more Americans, the need for our services has never been higher.
"Our entire experience is designed with the patient in mind," says Kristen Miller, CEO of Array Skin Therapy franchise. "We take insurance, we make scheduling appointments easy, and we don't make our patients pay for parking! But most importantly, the people in our clinics are there because they're the best at what they do. Not only are they experts in delivering the treatment, but they're also focused on compassionate care. We're here to make our patients' lives better – and we never forget that."
Learn More about Array Skin Therapy
With medical franchising an industry segment that's only expected to increase, Array Skin Therapy is an emerging brand at the right place at the right time. To learn more about our exciting and accessible investment opportunity, visit our research pages here or make a request for more information today!