Light Therapy has led to Improved Management in Eczema
For those with eczema, finding relief from dry, itchy skin is a daily struggle. According to the Cleveland Clinic, eczema, a condition that causes dry, itchy and inflamed skin, impacts over 15 million Americans. While there are several avenues to treating eczema, the National Eczema Association states that light therapy can be used to treat many forms of eczema in adults and children, and helps to reduce itch and inflammation. In many patients, one to two months of light therapy can reduce eczema symptoms.
So, if the use of light therapy products can help those struggling with eczema, imagine the improvement patients would see with regular visits to a business specifically dedicated to providing light therapy under the supervision of qualified medical professionals? Rather than using medications with possible side effects for eczema treatment, patients can utilize light therapy, a noninvasive treatment with fewer potential side effects that can improve their symptoms and quality of life.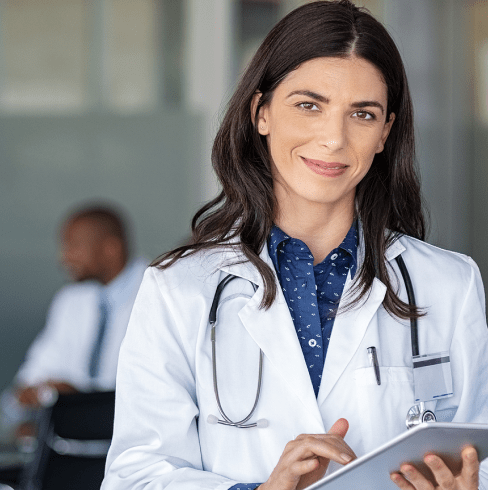 Light Therapy for Eczema Brings a New Market
Meet Array Skin Therapy—a franchise model devoted specifically to offering light therapy to patients with eczema, as well as many other inflammatory and autoimmune skin conditions. As the first franchise of its kind in this niche healthcare sector, Array Skin Therapy is in a prime position to bring light therapy to regions and communities around the country. With cutting edge technology and intensive training for each location's owners and team, Array Skin Therapy has become the premiere brand in the light therapy game. The franchise offers patients a reliable and more convenient option than their local hospital or medical center for receiving light treatment.
For medical professionals—including nurse practitioners and doctors with or without dermatology experience—looking for a unique business venture that can positively impact the health and wellness of individuals in their community, investing in an Array Skin Therapy franchise is a bright idea. It allows them to spend ample time with patients and improve their lives by making light therapy more accessible for treating eczema and other skin conditions.
Although you don't have to be a healthcare expert to invest and own an Array Skin Therapy franchise, each Array Skin Therapy clinic requires a healthcare expert to help operate. This allows each location to focus on offering high quality and compassionate care to patients. As Array Skin Therapy accepts insurance and offers easy scheduling tools, individuals with autoimmune and inflammatory skin conditions interested in light therapy will be eager to experience Array's  personalized care, rather than visiting their local hospital or medical center, where they can be lost in the sea of patients in need of other treatments.
Invest in an Array Skin Therapy Franchise Today
Are you ready to invest in your future and your community with a business venture with services that can treat eczema and other autoimmune and inflammatory skin conditions, bringing relief and improving the lives of individuals in your community? If so, read more about Array Skin Therapy's mission and offerings, and fill out the request additional information form now!