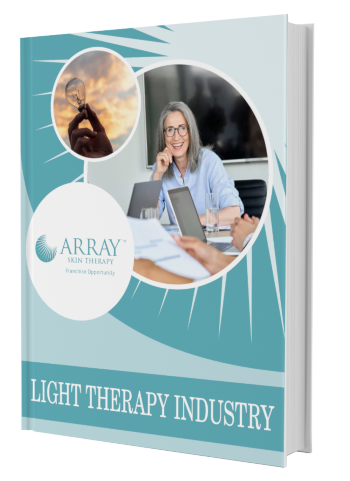 FREE INDUSTRY OUTLOOK
Learn more about the bright future of the light therapy industry
Let's Make a Difference Together
When you own an Array Skin Therapy medical franchise, you become part of the Array community. We work closely with franchisees to ensure you have all the tools needed for success. Our goal is to help your clinic thrive. Because when your clinic thrives, so does the community it serves.
Opening an Array clinic means providing light therapy services to people living with frustrating symptoms of skin conditions in your community, helping them to live brighter. You can experience professional satisfaction knowing you are improving the quality of life for many in your area. An Array clinic in your community also brings with it new employment opportunities, which expand as your clinic grows. Additionally, giving back is a core value of our brand.
Franchisees are required to participate in local philanthropic efforts. Help your community shine with a clinic in your area.
Clinic Selection & Build-out Guidance
Once you find an ideal location for your clinic, we provide illustrated plans for buildout, equipment, and design to ensure a welcoming, comfortable environment.
Initial & Ongoing Training
Your clinic will look great, but what you do in it is most important. That's why we provide comprehensive start-up training, as well as ongoing on-site and remote support – so you will feel confident from your very first patient onward.
Comprehensive Business Tools & Documentation
You will have access to our confidential operations manual, a valuable tool for daily reference for everyday procedures, reporting, marketing, and more.
Professional Marketing Support
Most patients will come to your clinic via a referral from area dermatologists, but we can also help you develop local marketing campaigns and branded materials to establish and build visibility of your clinic.
Learn more about the bright future of the light therapy industry