Questions About How to Open a Light Therapy Clinic?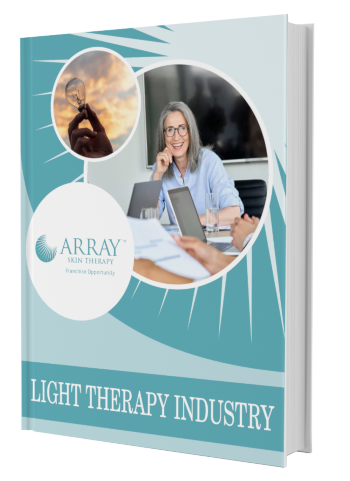 FREE INDUSTRY OUTLOOK
Learn more about the bright future of the light therapy industry
What experience do I need to become a franchise owner with Array Skin Therapy?
We are looking for people who understand the impact light therapy can make for people who struggle with a range of skin conditions. Ideal candidates include nurse practitioners, with or without dermatology experience, and other medical professionals looking to provide effective treatment options for a variety of patients. If you work in the medical community, or are new to it and can build a skilled team, and if you are financially qualified and excited about the services we provide in our clinics, we would like to talk with you.
What is provided as part of the Array Skin Therapy franchise program?
We invite you, your clinic manager, and administrative personnel to one week of training at our flagship California-based location. Following your training and as you open your own Array Skin Therapy location, members of our team will accompany you for two days to assist with the launch of your clinic. At Array Skin Therapy, we are always available via phone and email for additional questions or training, and franchise owners have exclusive access to our confidential operations manual to help run their clinic properly on a day-to-day basis. We are dedicated to ensuring you will feel confident as you open a light therapy clinic in your community.
How much will the Array Skin Therapy franchise cost me?
The total initial investment necessary to begin operations ranges from $139,030 to $195,030. This includes a $55,000 initial franchise fee for a single unit agreement. As with any new venture, it's important to have adequate capital to fund the initial business growth stages.
Is financing available?
We do not provide direct financing to franchise owners, but we may refer to financing sources on a case-by-case basis.
Are there ongoing fees to pay?
Because we are a medical company with unique regulations, our royalties are structured as a flat fee. The flat fee structure is beneficial to the franchisee because you know exactly what you are paying each month. Additionally, when your clinic does well you keep more earnings.
Are there any advertising fees?
Franchise owners will be required to spend $1,000 per month on local marketing on an ongoing basis. They will also contribute to the franchise system marketing fund on the following schedule: $170 per month during year one, $270 per month in year two, continuing likewise until $500 per month is reached in year five and beyond. All collected funds will be used to develop marketing strategies to promote the Array Skin Therapy brand and cover the creative costs to develop materials for marketing materials and campaigns.
What is the term of the agreement?
The initial term of your agreement is ten years, with two subsequent successor agreement option of five years each.
How do I get started?
If you're interested in learning more about how to open a light therapy clinic with Array Skin Therapy, contact us at 213-855-2224 or info@arrayfranchise.com. Let's discuss setting up a meeting, speaking with our management team, and receiving our FDD, for all the important details you'll need to make an informed decision.
Learn more about the bright future of the light therapy industry