Light Up Your Future With Array Skin Therapy Franchise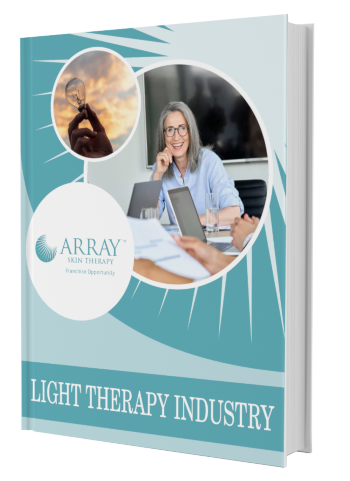 FREE INDUSTRY OUTLOOK
Learn more about the bright future of the light therapy industry
Explore Franchise Opportunities in California
Are you an aspiring entrepreneur seeking healthcare franchise opportunities in California? Array Skin Therapy is delighted to offer the opportunity to join our successful light therapy brand and establish your own business in the medical industry. With our proven business model, exceptional support, and a trusted reputation, you can confidently take the first step toward financial independence and personal fulfillment.
Why Choose Array Skin Therapy for Franchise Opportunities in California?
Established Brand Presence: Array Skin Therapy has built a strong brand presence in the medical industry, recognized for our effective treatments and exceptional patient service. By partnering with us, you gain instant access to our established reputation and loyal customer base in California.
Comprehensive Training and Support: As a franchisee, you will receive comprehensive training on light therapy and our business operations. Our experienced team will guide you every step of the way, ensuring you have the knowledge and confidence to run a successful Array Skin Therapy franchise.
Proven Business Model: We have developed a proven business model that maximizes productivity and growth potential. Benefit from our strategic marketing initiatives, operational systems, and ongoing support to drive the success of your franchise in California or anywhere in the United States.
Improve Patient Quality of Life: Array Skin Therapy offers narrowband UVB light therapy, also known as phototherapy, to treat certain autoimmune and inflammatory skin conditions. Our innovative concept sets us apart from other providers in the market, attracting patients looking for effective and convenient treatment. Take the next step towards owning your own business by starting a franchise with Array Skin Therapy in California or anywhere in the United States. Contact us today to learn more about franchises for sale in California.
Learn more about the bright future of the light therapy industry