Light Up Your Future With Array Skin Therapy Franchise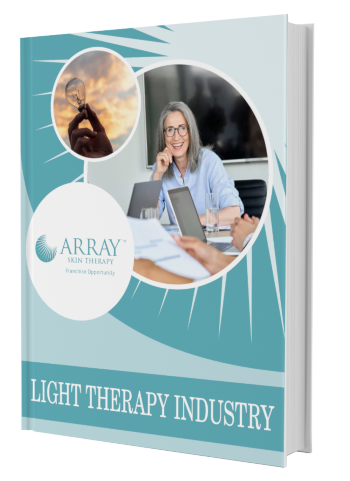 FREE INDUSTRY OUTLOOK
Learn more about the bright future of the light therapy industry
Join the Medical Industry with Array Skin Therapy's Franchise Opportunities
Are you passionate about the healthcare industry and looking for a rewarding franchise opportunity? Introducing Array Skin Therapy. We offer healthcare franchise opportunities that allow you to combine your entrepreneurial spirit with your dedication to improving the lives of others. Join our innovative light therapy brand and make a positive impact in your community while building your own business.
Why Choose Array Skin Therapy for Healthcare Franchise Opportunities?
Reputable Skincare Brand: Array Skin Therapy is a trusted name in the light therapy industry. By partnering with us, you align your healthcare franchise with a brand known for its compassion,  and exceptional patient service.
Growing Market Demand: The demand for light therapy continues to grow due to the increasing rate of skin disorders and the desire for a medication free treatment option. Benefit from this expanding market by offering in demand narrowband UVB light treatment under the Array Skin Therapy brand.
Supportive Network: As a franchisee, you will join a supportive network of like-minded professionals, benefit from ongoing support, shared resources, and the collective knowledge of the Array Skin Therapy franchise community. Together, we can improve the health and wellness of communities across the United States.
Trusted Treatment: Array Skin Therapy offers safe and effective light therapy for several inflammatory skin conditions, including  psoriasis, vitiligo and eczema. Provide your patients with the gold standard of light therapy in a compassionate and convenient manner, ensuring their satisfaction and loyalty.
Embark on a fulfilling healthcare franchise journey with Array Skin Therapy. Take advantage of our healthcare franchise opportunities and make a difference in people's lives while building a successful business. Contact us today to learn more about the medical franchise opportunity.
Learn more about the bright future of the light therapy industry