Light Up Your Future With Array Skin Therapy Franchise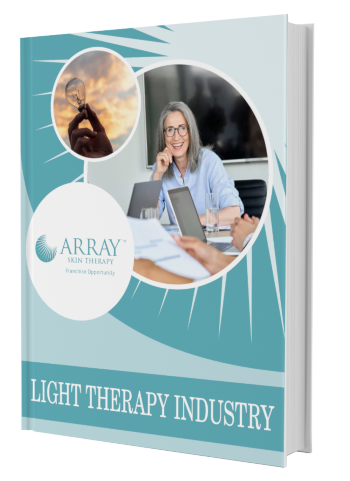 FREE INDUSTRY OUTLOOK
Learn more about the bright future of the light therapy industry
Start Your Own Niche Medical Clinic with Low-Cost Franchise Opportunities from Array Skin Therapy
Are you seeking low-cost franchise opportunities that offer excellent growth potential? Array Skin Therapy is a low startup cost franchise that enables you to own your own business without a substantial investment. Enter the thriving healthcare industry with minimal investment and be your own boss while improving the lives of others.
Why Choose Array Skin Therapy for Low-Cost Franchise Opportunities?
Affordable Initial Investment: Our low-cost franchise opportunities make entrepreneurship  accessible to aspiring business owners. With a modest initial investment, you can become a part of the Array Skin Therapy team and start your journey towards financial independence.
Streamlined Business Model: We have developed a streamlined business model that minimizes operational costs and maximizes returns. Benefit from our unique concept, proven business model, and comprehensive support to ensure your low-cost franchise thrives.
Light Therapy Treatment: Array Skin Therapy offers narrowband UVB light therapy, also known as phototherapy, to treat the frustrating symptoms of certain skin disorders, including psoriasis, vitiligo and eczema. Our up and coming franchise is the first of its kind.
Training and Support: Even with a low startup cost franchise, you will receive comprehensive training and ongoing support from our experienced team. We equip you with the knowledge, skills, and resources necessary to operate your own light therapy clinic successfully.
Start your entrepreneurial journey with a low-cost franchise opportunity from Array Skin Therapy. Own your own niche business in the healthcare industry while keeping your investment affordable. Contact us today to learn more about our up and coming franchise opportunity.
Learn more about the bright future of the light therapy industry