The Demand for Light Therapy Will Only Increase Over Time
If you had an autoimmune skin condition, such as psoriasis, vitiligo or eczema, wouldn't you want a safe, convenient treatment option close to home? The answer is yes, which is why consumers are eager to engage with the light therapy industry and trusted providers such as Array Skin Therapy.
Array Skin Therapy provides a true community service, and is also a remarkable business opportunity. According to Allied Market Research, the global light therapy market was valued at $521 million in 2021 and expected to soar to more than $800 million by 2031. That's a remarkable growth trajectory, and it highlights why this is the perfect time to open an Array Skin Therapy franchise location.
Light Therapy is a Growing Industry
Light therapy, also known as phototherapy, uses narrowband ultraviolet light on skin cells to reduce inflammation caused by skin conditions. For the best treatment results, light therapy must be performed regularly over several weeks. That's where the problem has always been: until now, patients had to go to large medical centers, which presented roadblocks in terms of accessibility and convenience. And if you missed an appointment, it might be weeks before another one could be scheduled!
CEO and Clinical Director Kristen Miller, FNP, saw the frustration over her decades of experience and knew there had to be a better way. "I saw how effective light therapy was for our patients, and at the same time, I saw how poor the patient experience was," she says. "I started Array Skin Therapy to make light therapy more accessible and convenient to the people who need it, but to also deliver an experience that's kind, compassionate and empathetic. We're here to make a difference — and that's why our patients love coming back to us over and over again."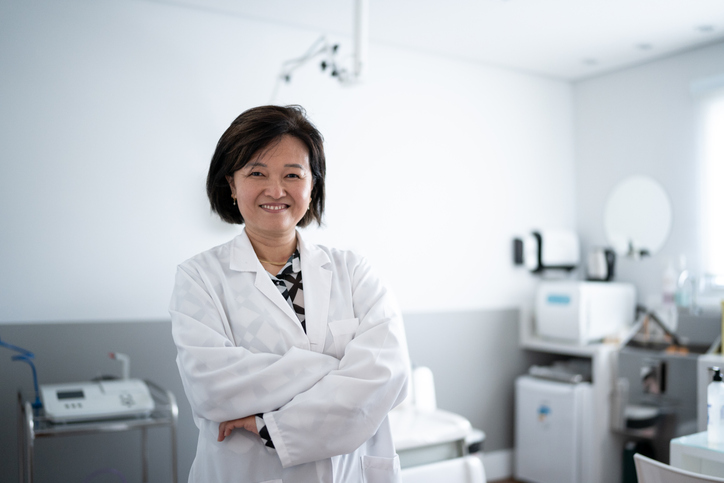 Light Therapy Meets the Demand
After launching in 2011, Array is now a leader in the light therapy industry, with locations across Los Angeles and Orange County in Southern California. The proven results and patient loyalty led Miller to consider franchising, so that more people could obtain relief in communities across the country.
"There are millions of people that need this treatment, and we want to franchise with passionate entrepreneurs who share our mission to make light therapy accessible to all that need it," she says. "We've proven this model works from a business standpoint as well. We're proud of our unit-level economics and our ability to scale, because that means what we're doing is working."
Franchise owners will tap into the latest in light therapy technology and be able to build a patient list quickly. You'll also become a true community partner, thanks to Array's desire to have all franchise locations engage in local philanthropy.
"When you own an Array Skin Therapy franchise, you become part of the Array community, as well as your own community," Miller explains. "We work closely with franchisees to ensure you have all the tools needed for success. Our goal is to help your clinic thrive. Because when your clinic thrives, so does the community it serves, because you've introduced both a way to improve quality of life, as well as contributing to employment opportunities and the local tax base."
Array's Franchise Support Helps Grow Your Business
Entrepreneurs are always looking for ways to create a solid business out of consumer desires. Despite this fact, many are nervous about stepping out on their own, which is why they opt for a franchise. Having a proven, easy to learn business model helps entrepreneurs start strong and grow quickly.
Array Skin Therapy checks all those boxes, as well as being a first-to-market franchise, paving the way for Array to become the light therapy industry's leading brand.
Joining this unique franchise means entrepreneurs just getting started, as well as experienced business owners will be given everything they need to start and operate their own light therapy franchise, including assistance with site selection, building designs, top-tier technology and equipment, technical and operational training, marketing and branding support, and much more.
Learn More about Franchising with Array Skin Therapy
Opening an Array Skin Therapy franchise in your community means extending a helping hand to friends and neighbors suffering from chronic autoimmune skin conditions. Array Skin Therapy offers dedicated services, providing a convenient alternative to the local hospital, medical center, or busy dermatology office. Your patients will know exactly where to go for their treatment and what to expect with each visit, easing uncertainty and helping them achieve an improved quality of life.
Are you a compassionate professional looking for an investment opportunity to shape your future? Are you eager to offer a unique service that will improve patients' lives? Are you ready to take charge of your financial future through your own business? Then you need to read more about Array Skin Therapy, and fill out the request for additional information form to learn how you can open your own light therapy franchise today!